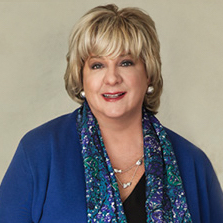 Susan Penfield, Booz Allen Hamilton
Lifetime Achievement Award Recipient
Susan Penfield is the firm's chief innovation officer and a member of the firm's leadership team. She drives focused innovation and functional strategies that empower our people to change the world. Through the creation of integrated capabilities, breakthrough products and solutions, and alternative business models, Susan also helps implement focused innovation on a few big bets intended to seed next-generation businesses—in secure operational technology, artificial intelligence, directed energy, and digital solutions.
Susan's work also scales innovative capabilities across the firm to drive growth and develops functional strategies to scale, deepen, and retain the firm's functional talent base through affiliation, development, recruiting and upskilling.
Under Susan's leadership, the firm reinvigorated its culture of innovation and opened Booz Allen's DC Innovation Center—a physical embodiment of our commitment to innovation. Through the Innovation Center and its network of Innovation Hubs, the firm engages in the external innovation ecosystem to identify partnerships and emerging technologies to create original solutions to our clients' toughest problems.
For the past 2 years, Susan has been recognized as one of the most influential figures in government consulting for driving vision, innovation, and achievement for American citizens through the Wash100 award. In 2017, she was recognized for her analytics and digital services program leadership, and she was celebrated for her collaborative leadership in 2016.
Prior to her current role, Susan led our health business, where she drove technology and transformation initiatives across the federal, commercial, and not-for-profit health space. Susan provided consulting services for every major federal health-related organization in the U.S., and led several high-profile engagements, including:
Oversight of the program, strategy, and technology for the National Institutes of Health National Children's Study
Development of the National Plan to Combat Alzheimer's Disease
Transformation of the Centers for Disease Control's Vaccine for Children program
Implementation of large-scale technology transformation programs in support of the Food and Drug Administration's pharmacovigilance, food safety, and other regulatory programs.
Susan is dedicated to helping the DC community, working with several not-for-profits in the area. Susan joined SEED SPOT's DC Advisory Board in 2016, a not-for-profit supporting entrepreneurs who create solutions to social problems. Susan also serves on the board of directors for the Children's Inn at the National Institutes of Health and works closely with the National Capital Chapter of the American Red Cross.
Susan is an advocate for the recruitment, retention, and the advancement of women. She serves as an executive adviser for our women's agenda and routinely speaks on STEM-related topics. Susan received a 2017 Diamond Award from Girls Inc. DC for her outstanding executive leadership as a woman and for Booz Allen's service over the past 10 years for programs such as STEM Girls 4 Social Good.
Susan holds a B.S. in technology management from Lock Haven University in Pennsylvania and a certificate in management from Northwestern's Kellogg School of Business.